Our Vision
Impacting every ONE with the love of Jesus Christ.
---
Our Mission
To introduce people to the LOVE of Jesus Christ, bring LIFE to their family relationships, teach them the LIBERTY of a committed life and walk with God and to create a LEGACY of hope for generations to come.
---
Our Core Values
1. CENTER – (Worship) We embrace the power and presence of God.
2. CONNECT – (Fellowship) Relationships are paramount in building a family of believers that warmly embraces all ages, races, and social backgrounds.
3. CULTIVATE – (Discipleship) Growing daily to become fully devoted reproducing believers.
4. CONTRIBUTE – (Ministry) Mobilizing adults, youth, and children to serve and to lead.
5. COMMUNICATE - (Outreach) Boldly and passionately pursuing the un-churched with authentic, relevant, and creative ministry.
---
The DNA of Rock Family Church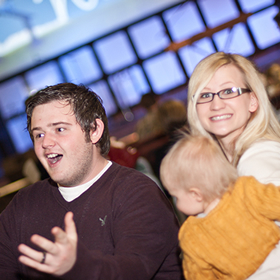 1. A community of believers that warmly embraces and accepts all ages, races, and social backgrounds with the pure love of God.
2. A church that introduces our friends, family, neighbors, and acquaintances to the Creator of the universe, a loving God, our Heavenly Father. It is our desire to assist them in establishing a growing, daily, life giving relationship with Jesus Christ.
3. A church that highly values building strong family relationships through teaching, fellowship, and outreach. Our goal is to establish a generation of healthy families which will be a heritage for years to come.
4. A church with a dynamic children's and youth ministry that impacts the students of our community through creative ministry, aggressive discipleship, and leadership training. It is our desire to utilize their gifts NOW and place them into active leadership within the local church and community. Young people are NOT the future of the church - they are the church of today.
5. A church that emphasizes the teaching, feeding, and reading of God's Word for the development and personal growth of the believer.
6. A church with innovative and creative services utilizing drama, video, music and illustrated messages to bring the Word of God alive and capture the hearts of people.
7. A church whose members live a lifestyle of honor and excellence to accurately represent a life founded upon Jesus Christ.
8. A church that actively reaches out to the community with various ministry projects and "random acts of kindness."
---
Growing Solid Relationships...
At Rock Family Church, what matters most is growing solid relationships with God, our family, and the community.
God: The key to a successful life in this world is building our life on a solid foundation. Many people have attempted to find joy and satisfaction through their career, wealth, and various pleasures of this world. Jesus likened this to a man who built his house on the sand and it could not stand the storms of life. The Bible is very clear that the one sure foundation to build our life upon is the ROCK of Jesus Christ. Our passion at Rock Family Church is to continually grow, develop, and improve our relationship with God and His Son Jesus Christ.
Our Family: The one word to describe this church is FAMILY. The most important thing in this world, second only to our relationship with God, is family relationships. Our desire is to equip you with the tools to connect with your family and those around you. We are constantly striving to grow as individual families and as a church family. We have regular family events and activities, family outreaches to serve the community together, family retreats, and regular times of family worship. Come be a part of our church family and let's build and grow together in our relationships.
The Community: People all around us have no hope and are looking for answers. We will never reach our city until we are willing to reach them ONE at a time--one co-worker, one neighbor, one friend, one random act of kindness. Jesus always met a person's need and then asked them to follow Him. We don't want to be an exclusive group of members, but an inclusive group of believers that impacts the individuals within our community ONE at a time. Too many people in the world see the church as a place that wants to get something from them. We want to change their perspective and be a church that gives our time, talents, and resources back to the community.